THE NEW LEXUS DEALER IN FARO, PORTUGAL, CHOSE ARK WALL BY ISOPAN
25 Mar 2020
For the new Portuguese dealer in Faro, architects of the Rarcon firm have designed and created a minimalist building with an irregular geometric shape. To build it, they resorted to the ventilated facade system by Isopan to create an envelope that easily adapts to the geometric irregularities of the project. The ARK WALL system by Isopan not only led to fast installation, but also a unique aesthetic result.
The opening of the new Lexus dealer in Faro, in Portugal's Algarve region, also involves the development of a new concept of commercial space and showcase. Architectural firm Rarcon took on the project to turn it into a building with a strong identity. As Rarcon explains: «Starting from the existing metal building and from the reformulation of the concept of commercial space, we worked to recreate an iconic structure that would stand out from the structures in the same urban area. The existing structure had a very unique design to accommodate all the technical needs of the customer, like the showroom, offices, reception room and an upper technical storey. Moreover, there was the need to include slopes to both comply with the project and monitor rainwater drainage.
The roof has been conceived as a fifth facade, treated, modelled and covered like the other walls of the building, to add uniformity in every respect. The geometric features, designed to amaze and attract the customer, are made thanks to a superstructure applied to the existing cover, a solution that focuses on creativity and design. Inside the building, the relationship with the external envelope is highlighted by the use of the same style applied to make the roof, by modelling the metal structures characteristic of the premises. The building acts as a unique example with a strong morphological identity that is perfectly combined with the identity of the brand, where colour and shape prevail in space».
The Ark Wall ventilated facade
The use of the dry construction technique not only improved the technical performance of the building, but also led to an excellent architectural finish. The ARK WALL ventilated facade system by Isopan perfectly adapts to the irregularities of the designed envelope. Thanks to the system, the light metal structure supporting the Isopan panels can hold up the final cover with fibre cement panels. Even facades and roofs, created by using the same construction element, are the result.
Technical details:
Project: Lexus dealer in Faro
Where: Faro, Portugal
Architect: RARCON arquitectura e consultoria/João Ramos
Customer: Caetano Auto
Surface: 239 m2
Isopan products: ARK WALL system
PH Credits: Ivo Tavares Studio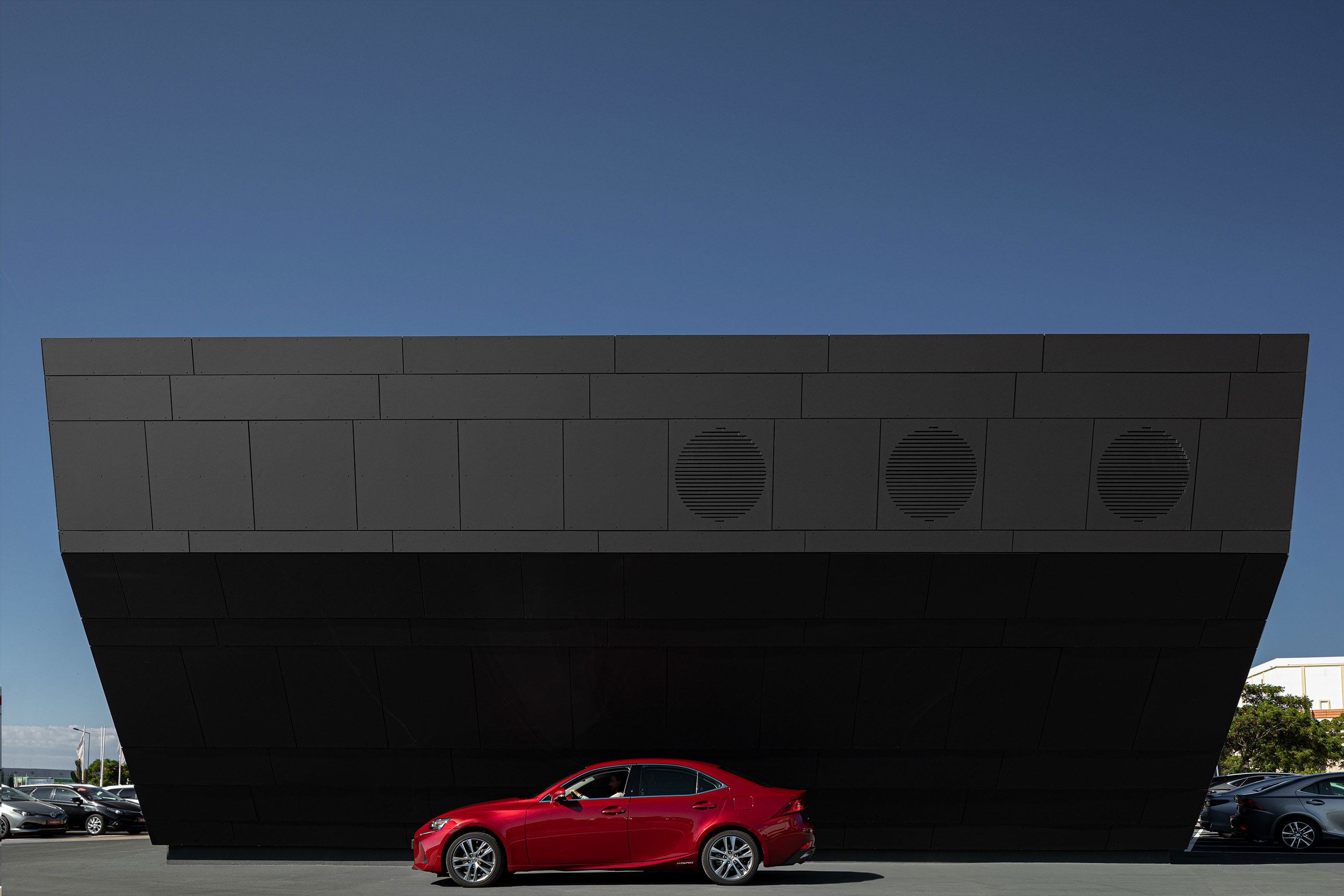 MARKET
Česká republika

Deutschland

España

France

Italia

México

România

USA

Россия
LANGUAGE
American

Mexico

Русский

Română

Nederlands

Italiano

Čeština

Français

Deutsch

Español

English
You will see the site in English with the Czech portfolio
You will see the site in English with the German portfolio
You will see the site in English with the Spanish portfolio
You will see the site in English with the French portfolio
You will see the site in English with the Italian portfolio
You will see the site in English with the Mexican portfolio
You will see the site in English with the Romanian portfolio
You will see the site in English with the American portfolio
You will see the site in English with the Russian portfolio
Verás el sitio en mexicano con el portafolio checo
Verás el sitio en mexicano con el portafolio alemán
Verás el sitio en mexicano con el portafolio en español
Verá el sitio en mexicano con el portafolio francés
Verás el sitio en mexicano con el portafolio italiano
Verás el sitio en mexicano con el portafolio mexicano
Verá el sitio en mexicano con el portafolio rumano
lang_mx_switcher_with_usa_portfolio
Verá el sitio en mexicano con el portafolio ruso
Вы увидите сайт на русском языке c чешским портфолио
Вы увидите сайт на русском языке с немецким портфолио
Вы увидите сайт на русском языке с испанским портфолио
Вы увидите сайт на русском языке с портфолио на французском
Вы увидите сайт на русском языке с итальянским портфолио
Вы увидите сайт на русском языке с мексиканским портфолио
Вы увидите сайт на русском языке с румынским портфолио
lang_ru_switcher_with_usa_portfolio
Вы увидите сайт на русском языке с русским портфолио
Veți vedea un site în limba română cu portofoliul ceh
Veți vedea un site în limba română cu portofoliul german
Veți vedea un site în limba română cu portofoliul spaniol
Veți vedea un site în limba română cu portofoliul francez
Veți vedea un site în limba română cu portofoliul italian
Veți vedea un site în limba română cu portofoliul mexican
Veți vedea un site în limba română cu portofoliul românesc
lang_ro_switcher_with_usa_portfolio
Veți vedea un site în limba română cu portofoliul rus
lang_nl_switcher_with_cs_portfolio
lang_nl_switcher_with_de_portfolio
lang_nl_switcher_with_es_portfolio
lang_nl_switcher_with_fr_portfolio
lang_nl_switcher_with_it_portfolio
lang_nl_switcher_with_mx_portfolio
lang_nl_switcher_with_ro_portfolio
lang_nl_switcher_with_usa_portfolio
lang_nl_switcher_with_ru_portfolio
Vedrai il sito in italiano con il portafoglio ceco
Vedrai il sito in italiano con il portafoglio tedesco
Vedrai il sito in italiano con il portafoglio spagnolo
Vedrai il sito in italiano con il portafoglio francese
Vedrai il sito in italiano con il portafoglio italiano
Vedrai il sito in italiano con il portafoglio messicano
Vedrai il sito in italiano con il portafoglio rumeno
lang_it_switcher_with_usa_portfolio
Vedrai il sito in italiano con il portafoglio russo
Uvidíte web v rumunštině s českým portfoliem
Uvidíte web v rumunštině s francouzským portfoliem
Uvidíte web v rumunštině se španělským portfoliem
Uvidíte web v rumunštině s francouzským portfoliem
Uvidíte web v rumunštině s německým portfoliem
Uvidíte web v rumunštině s mexickým portfoliem
Uvidíte web v rumunštině s rumunským portfoliem
lang_cs_switcher_with_usa_portfolio
Uvidíte web v rumunštině s ruským portfoliem
Vous verrez le site en français avec le portfolio tchèque
Vous verrez le site en français avec le portfolio allemand
Vous verrez le site en français avec le portfolio espagnol
Vous verrez le site en français avec le portfolio en français
Vous verrez le site en français avec le portfolio italien
Vous verrez le site en français avec le portfolio mexicain
Vous verrez le site en français avec le portfolio roumain
lang_fr_switcher_with_usa_portfolio
Vous verrez le site en français avec le portfolio russe
Sie sehen die Seite in deutscher Sprache mit dem tschechischen Portfolio
Sie sehen die Seite in deutscher Sprache mit dem deutschen Portfolio
Sie sehen die Seite in deutscher Sprache mit dem spanischen Portfolio
Sie sehen die Seite in deutscher Sprache mit dem französischen Portfolio
Sie sehen die Seite in deutscher Sprache mit dem italienischen Portfolio
Sie sehen die Seite in deutscher Sprache mit dem mexikanischen Portfolio
Sie sehen die Seite in deutscher Sprache mit dem rumänischen Portfolio
lang_de_switcher_with_usa_portfolio
Sie sehen die Seite in deutscher Sprache mit dem russischen Portfolio
Verá el sitio en español con el portafolio checo
Verá el sitio en español con el portafolio alemán
Verá el sitio en español con el portafolio en español
Verá el sitio en español con el portafolio francés
Verá el sitio en español con el portafolio italiano
Verá el sitio en español con el portafolio mexicano
Verá el sitio en español con el portafolio rumano
Verá el sitio en español con el portafolio americano
Verá el sitio en español con el portafolio ruso
You will see the site in English with the Czech portfolio
You will see the site in English with the German portfolio
You will see the site in English with the Spanish portfolio
You will see the site in English with the French portfolio
You will see the site in English with the Italian portfolio
You will see the site in English with the Mexican portfolio
You will see the site in English with the Romanian portfolio
lang_en_switcher_with_usa_portfolio
You will see the site in English with the Russian portfolio